You've heard of online review websites like Yelp and Google Reviews.  And you've probably noticed that customers can leave reviews on Facebook.  But did you know that Facebook is busy creating a DIRECTORY of local professional businesses?
It's true!  And it's already here.  So today, I want you show you what to do to make sure you're listed.
Go here:  https://www.facebook.com/services/ 
You'll be able to type in your city and search for all different kinds of local businesses.  Below, you can see what it looks like when I searched Insurance Agents in Hot Springs, Arkansas.  (You can also search Insurance Brokers.)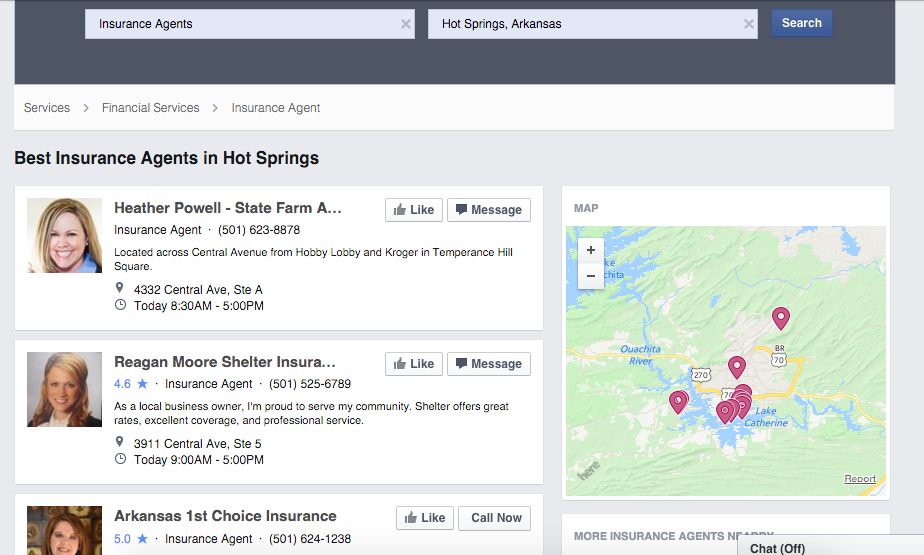 You can see a local map and a list of insurance agencies.  You can see that these pages shown have reviews and active pages.  We don't know exactly what Facebook looks at when it comes to ranking pages on the Services search, but I'm sure the more active and more positive – the better!
When I searched Insurance Brokers, I got a different result: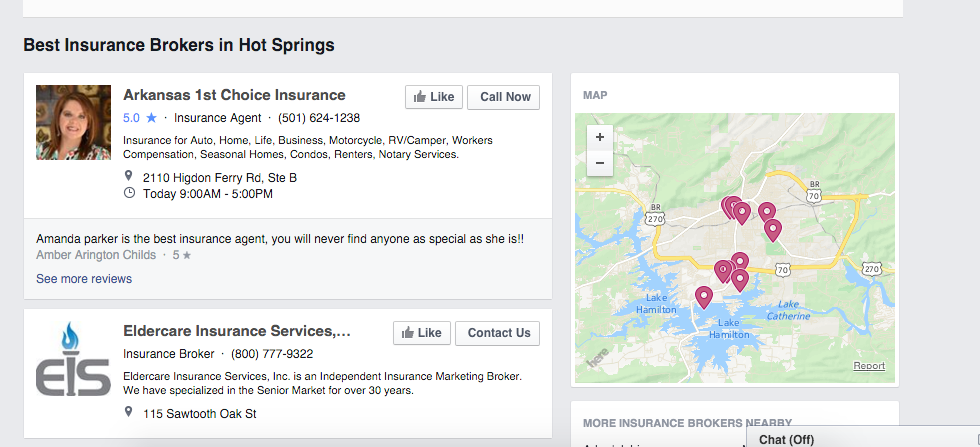 Update Your About Page
You'll want to make sure that your page is listed in the correct categories so you show up if a client (or potential client) searches.
Go to your business page and click About (under your cover photo).
You'll see a map with your local address and phone number here.  Make sure all of this info is correct.  Then on the LEFT click Page Info.
You'll see Category – Make sure it's listed as Local Business.
Then in Subcategory – Put Insurance Agent and Insurance Broker.  This will make sure you are listed in all insurance searches.
Then in the Address section – click Edit, verify it's correct, and make sure the checkbox under the map is checked to allow star reviews and check-ins.
Scroll on down to the short description area and enter a few short sentences that describe what you do with lots of keywords.
Don't Let This Happen
When I was searching, one of the pages much further down showed this: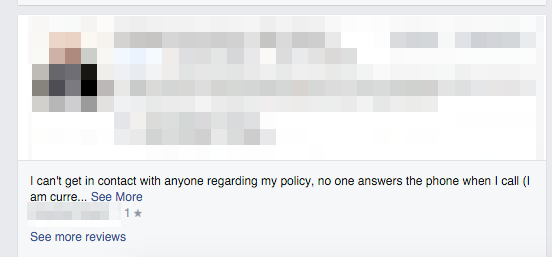 I blanked out the personal information for the agency, but I want you to see how this can HURT your business.  Below the contact information is a 1 star review stating that "no one answers the phone when I call."
Now obviously you can't stop these reviews from happening from time to time and you can't delete them.  BUT more positive reviews helps to balance them out!  And you don't want something like that to be the first thing someone sees about your agency.
Why This Matters
You already know that your clients use Facebook and that you MUST be there.  And as Facebook continues to grow, it's important that you do everything you can to show up!  Here are a few suggestions:
Post daily on your Facebook page with engaging, customized, and helpful content.  (We can help with customized, professional content for your agency.)
Ask new (and happy) clients to write reviews and testimonials!
Link to your Review page in your email newsletter.
Be proactive!  If someone leaves a low star review, reach out to them to see how you can make it right and possibly improve the rating!
If you enjoyed this article, get the Insurance Marketing Calendar (it's free)
Thanks!  Please check your email to download the current Insurance Marketing Calendar!