Ready to sell life insurance on Facebook this month right?  February's theme is Life Insurance!  So let's talk about some ways to make it happen.
The most IMPORTANT thing to keep in mind when selling life insurance via Facebook is to keep it SIMPLE.  You're not trying to close the sale and give all the details.  You just want to introduce the topic and start the conversation.
Choose The Right Product
First, choose the right life product to promote.  You want to pick the one that is the easiest to understand and on the less expensive side.  Think simple term policies.  Do you have one that doesn't require medical exams?  Do you have one that already has a list of basic rates?  For example: if you're under 30 and in good health, expect to pay around $___.  This isn't the place for the complicated universal policy with all the riders.  Easy to understand is key for social media marketing.
Who Is The Ideal Client?
Now, looking at that life policy…who is the right person for it?  Make a list describing the right person.  Do they have young kids?  Are they married or single?  Do they work?  Are they healthy?  If you could pick the PERFECT client, who would they be?  (Doesn't mean that this is the only person you sell to, but you want to target the message to the right person.)
Make a Plan!
Now run a list of people in your book of business who fit these demographics!  Gather up their emails, phone numbers, and mailing address in one location so that you can hit them with multiple marketing methods.  (You might send a postcard, post on Facebook page, run a Facebook ad targeted to this list with a Custom Audience, do some telemarketing, etc.)
Create Facebook Content Focused On Objections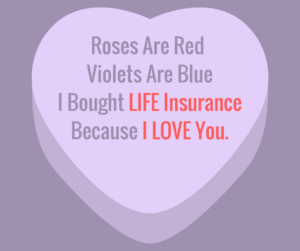 In order to get people to take action, we need to answer the objections quietly going on in their mind and stopping them from taking action.  Here are some common ones:
I can't afford it.
I don't want to think about it!
Life insurance is only for babies.
I'm super healthy!
I'm covered through work .
Go through the list above and write a response for each of these objections.  Then create Facebook content that ties in to those responses!
DON'T DO THIS
Now, two big things to avoid.  I've seen agents do this and you really want to avoid it.
First, don't over-do it talking about death.  Yes, that's the point of life insurance BUT people don't go on Facebook for depressing death statistics.  They go there to be entertained.  Keep the death talk to a minimum and focus on the main objections above.
Second, don't get too technical.  The average person doesn't know all the details of insurance lingo and they DON'T WANT TO!  Too much industry jargon is a turn off on social media.  Keep in simple and save the detailed explanations for an appointment.
So What Do Clients Care About?
Locking in a low rate!  No one wants to pay too much.  Use the Life Birthday campaign to create a low rate deadline!
Giving financial security to their family (paying off debt, paying off the house, etc).
Not wasting money on a policy through work that won't help if they leave their job.
Think About This
Write this down and spend some time figuring out an answer today.  Even small changes that make the process easier can make a big difference.
How can I make it easier, faster, and less of a HASSLE to get a life insurance quote?
Facebook Tips
Build your network and get as many current clients as possible to follow your agency Facebook page.
Post consistent daily content!  (Mega Posts makes this easy! Get details here.)
Facts Tell, Stories Sell.  Yes, you can tell people why they should buy life insurance.  But sharing stories of how it helped you or people you know is much more powerful.  Create a video or do a Facebook Live and share a story.
Use Call To Action.  Tell people the next step to take.  Send a private Facebook message, call the office, fill out this form, etc.  They won't know what to do if you don't provide clear direction.
Need Help?
We can help!  Join Mega Posts today for training on getting referrals, Facebook "Likes", creating Facebook ads and the most fun and engaging insurance content you'll find!  You can choose to take care of your own posts or let us do it all for you.  Details here or call our office at (501)547-8107.  
If you enjoyed this article, get the Insurance Marketing Calendar (it's free)
Thanks!  Please check your email to download the current Insurance Marketing Calendar!