A new month is about to begin and it's time to start thinking about your May insurance marketing plan.
May Insurance Marketing Plan
Draw your Referral Rewards winner from April and PROMOTE it on all of your social networks and email newsletter.  If you don't know what Referral Rewards are, read this.  Remember, the benefit to referral programs is in the promotion.  Take a photo of your winner, make a video announcing it.  Share it everywhere, post it on your website, send it out in your email newsletter.  It's not too late to start offering a referral program!  
Schedule Annual Reviews – If you started by last name in January, then this month focus on last names beginning with I & J. I like to use last names rather than renewal dates, so  you only contact people once per year AND it's not just focused on looking at rate increases.  Remember to look for potential discounts, multi-line opportunities, and display your excellent and above-average customer service!  
Sell Boat Insurance – Memorial Day is the official kick-off of summer!  That means it's time to talk about boat and jet ski insurance!  RV's and Motorcycles are popular this time of year too.  Consider running a boat insurance campaign through the month of May.  (I've shared some ideas in this month's calendar.)
Get Life Insurance Leads – You'll send a card out about two months before the prospect's actual birthday as a reminder that life insurance rates will go up once they are year older.  (Target current clients that are a good life prospect only.)  Don't make this a Happy Birthday card, some might find it offensive!  Instead just use their birthday as a hard deadline for getting the best life insurance rate.
Plan Your Social Media – Social media is the perfect place to connect with clients on a regular basis.  But you have to be PERSONAL and CONSISTENT!  Using bland content your company delivers isn't going to cut it anymore.  Insurance doesn't have to be boring.  Plan to tie in your referral program, photos of your staff, and fun, entertaining info all month long.  (We can help!)
Use Facebook Ads To Get "Likes" – Get your current clients to follow you on Facebook!  Upload your book of business email list and target an ad to get clients to "like" your agency.  (Remember, current clients are more likely to follow you than strangers so focus on them first!)
Download Your Calendar
If you'd like a printable calendar version of May's marketing, then click here and I'll send you one!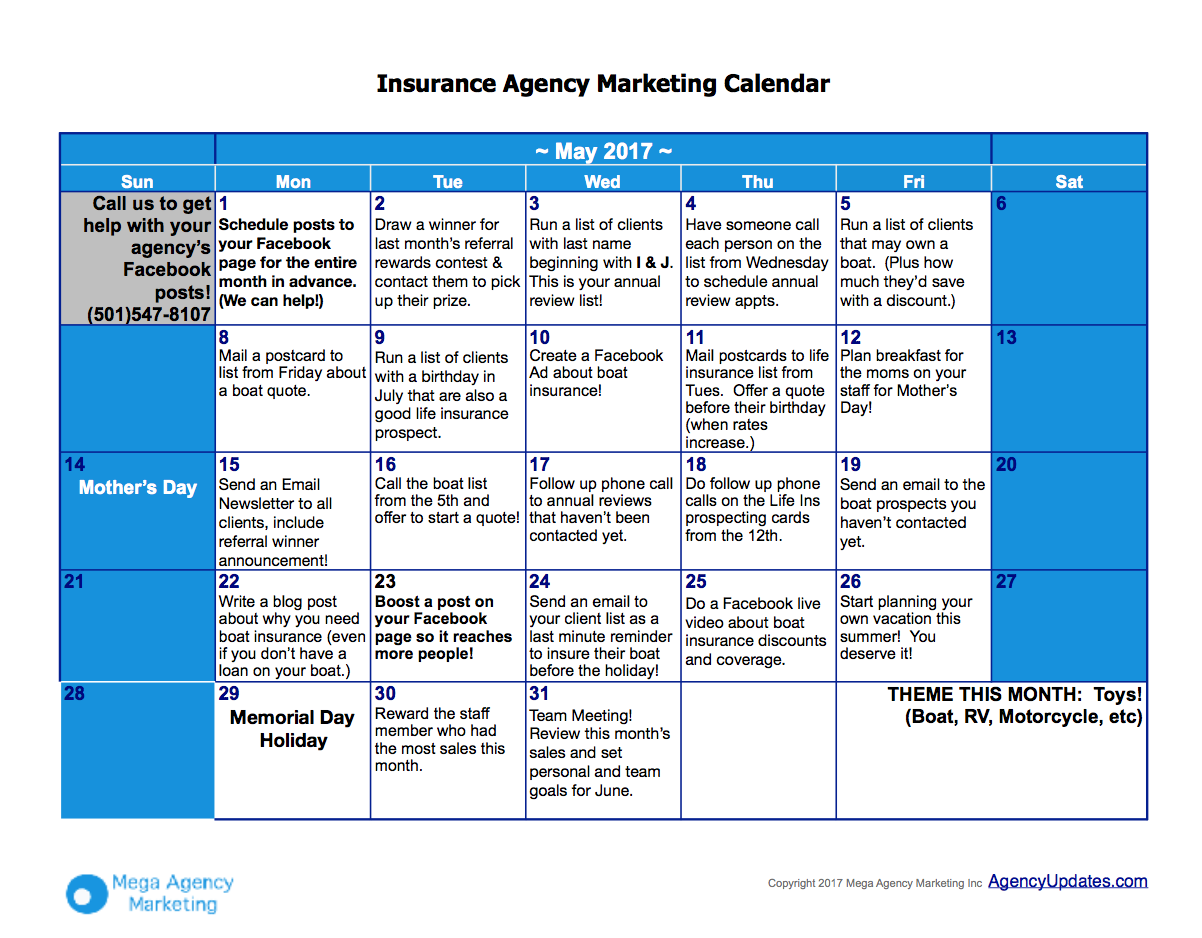 If you enjoyed this article, get the Insurance Marketing Calendar (it's free)
Thanks!  Please check your email to download the current Insurance Marketing Calendar!