We all know that insurance is one of those required necessities that people really don't think about too much unless they have to.  But, that doesn't mean that you can't make it interesting and relevant on your own, throughout the year.  (Take a look at the August Insurance Marketing Calendar below and get some ideas!)
You do this by creating "themes" that you can tie into various products that you sell.  
I know that summer doesn't officially end until Labor Day, but for most people August is the end of vacation and focused on back to school shopping, meet the teacher, getting kids packed up and off to college, and general preparations.  In fact, it's one of the biggest transitional months of the year!
Let's think about ways you can increase awareness of your products while coinciding with the back to school theme.
Renters Insurance – Market this to families with college age children who aren't living in dorms and need coverage for their belongings.
Health Insurance – policy changes for students out of the household.  Annual physicals and immunizations.
Discounts – Talk about discounts for good students (encouraging good grades at the beginning of the school year), driver training, additional driver education, etc.
Annual Reviews – Will your college kids "stuff" be covered in the dorm on your homeowners policy?  Do you need increased limits?
Just like we tend to sell boat insurance before Memorial Day, you can sell renters insurance for back to school!  Here are a few other ideas:
August Insurance Marketing Plan
Draw your Referral Rewards winner from July and PROMOTE it on all of your social networks and email newsletter.  If you don't know what Referral Rewards are, read this.  Remember, the benefit to referral programs is in the promotion.  Take a photo of your winner, make a video announcing it.  Share it everywhere, post it on your website, send it out in your email newsletter.  It's not too late in the year to start!
Schedule Annual Reviews – If you started by last name in January, then this month focus on last names beginning with O & P. I like to use last names rather than renewal dates, so  you only contact people once per year AND it's not just focused on looking at rate increases.  Remember to look for potential discounts, multi-line opportunities, and display your excellent and above-average customer service!  
Get Life Insurance Leads – You'll send a card out about two months before the prospect's actual birthday as a reminder that life insurance rates will go up once they are year older.  (Target current clients that are a good life prospect only.)  Don't make this a Happy Birthday card, some might find it offensive!  Instead just use their birthday as a hard deadline for getting the best life insurance rate.
Get Out & Meet Some Mortgage Lenders – Do you have a flyer for your referral program?  Make some copies and spend a few hours each Friday this month visiting local mortgage lenders.  Drop off flyers for your referral program, shake hands, and leave a few business cards.
Prep For Life Insurance Awareness Month – Next month is Life Insurance Awareness Month, so now is the time to plan any special events or marketing!
Plan Your Social Media – Social media is the perfect place to connect with clients on a regular basis.  But you have to be PERSONAL and CONSISTENT!  Using bland content your company delivers isn't going to cut it anymore.  Insurance doesn't have to be boring.  Plan to tie in your referral program, photos of your staff, and fun, entertaining info all month long.  (We can help!)
Download Your Insurance Marketing Calendar
If you'd like a printable calendar version of August's marketing, then click here and I'll send you one!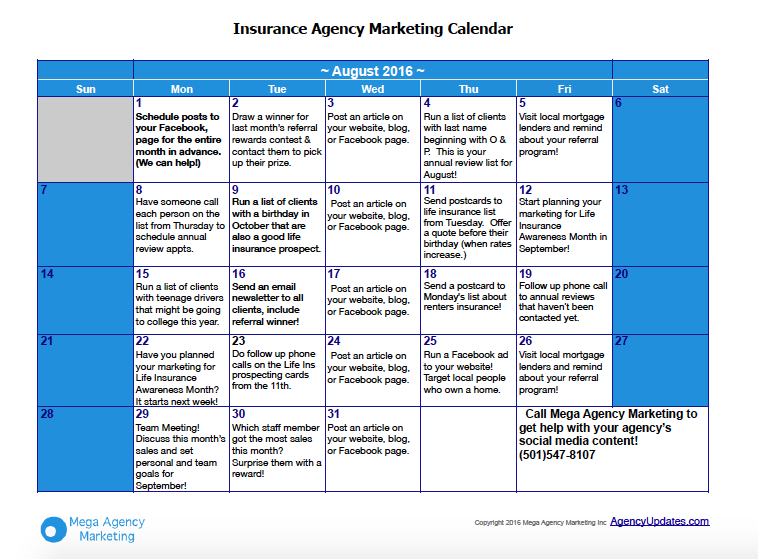 If you enjoyed this article, get the Insurance Marketing Calendar (it's free)
Thanks!  Please check your email to download the current Insurance Marketing Calendar!