Tired Of Losing Clients To Competitors?  Need A New Way To Boost Retention & Hit Your Sales Goals?
Mega Posts makes it easy to do on Facebook - find out how.
Facebook is the new way to market your insurance agency
Stop wasting money on expensive direct mail that barely converts.
Stop wasting money on expensive paper newsletters that go straight in the trash.
Stop running billboards that no one sees!
If you're like most agents I've worked with, you're BUSY.  The phone is ringing, you have quotes to run, clients to call back, and staff to manage.  You spend a lot of time putting out fires.  And there isn't always a lot of time for new marketing strategies.  (As a former agency owner, I totally understand how this feels!  It can be exciting and exhausting!)
You want to be consistent with Facebook marketing, grow your agency and increase retention, but there just isn't time to get it all done.
That's why I created Mega Posts (formerly the Insurance Marketing System).  I've been helping agents create Facebook pages, daily content, and Facebook ads since 2010.  Hundreds of agencies have simplified their Facebook marketing and seen great results.  And you can too!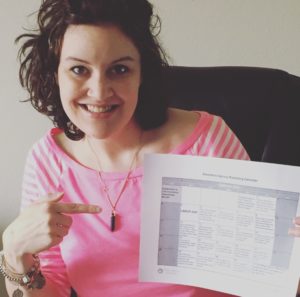 Linda Fullman,

Allstate Agent

"Mega Agency Marketing helped me broaden my brand and increased my online presence.  I love how they weave fun and helpful everyday tips with informational content to help increase my business presence and help build relationships.  Thank you Mega Agency Marketing."
Cathy Cason,

Office Manager - Blackwell Allstate

"We began using Mega Agency Marketing at the beginning of the year.  The service we have received as been excellent.  John strategically tailors our posts and highlights events and people in our area for the personal touch.  It's nice to know it's taken care of and the content is relevant and appropriate."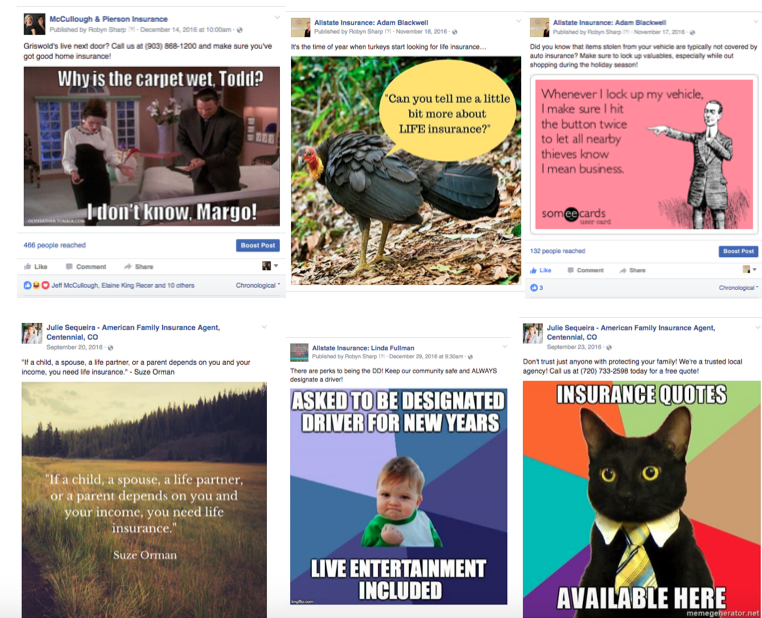 Post Creative, Engaging (non-boring) Facebook Content
Each month you'll receive an Excel spreadsheet with daily posts (Monday-Friday) to use on your page along with high-quality fun and engaging images!  We plan everything out for you with dates and times listed.  All you have to do is add in a little personality and schedule them on your page!  (Or choose the Platinum level and we'll customize and schedule it for you.)
We'll also include a theme each month that ties in with your content and helps promote a specific line of business for a personal lines P&C agency.  (Past themes include Life Insurance, Cross Sell Mono-Line Auto To Home, Boats, Motorcycles, etc.)
Add In Your Unique Personality
The biggest mistake most agents make is using the same content as every other Allstate, Farmers, Nationwide agent in town!  We show you exactly how to customize your content each month with your phone number, photos, website, and MORE to make it POP.  Plus we only accept one agent per city on our program, so every other agent in town WON'T be using the same content.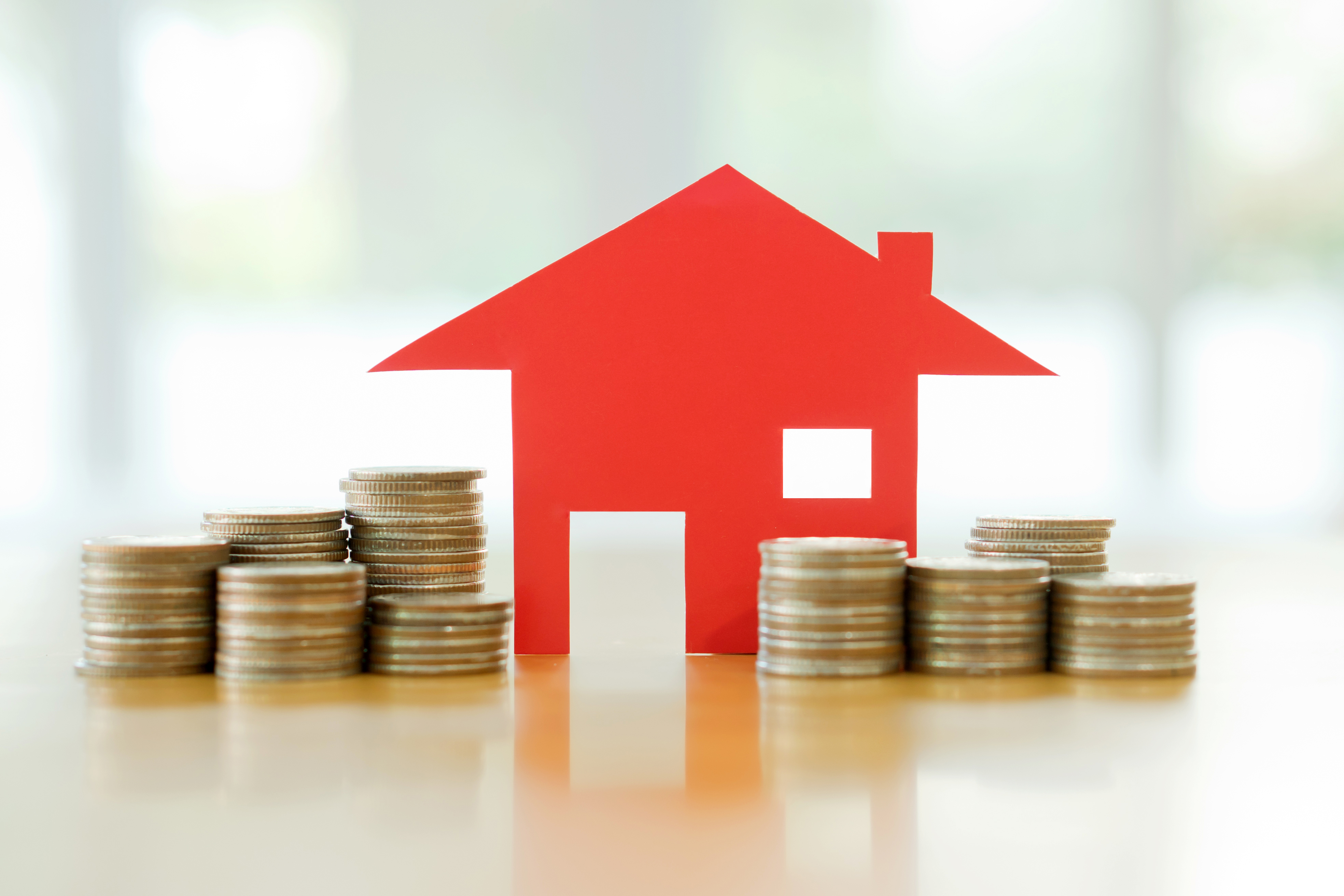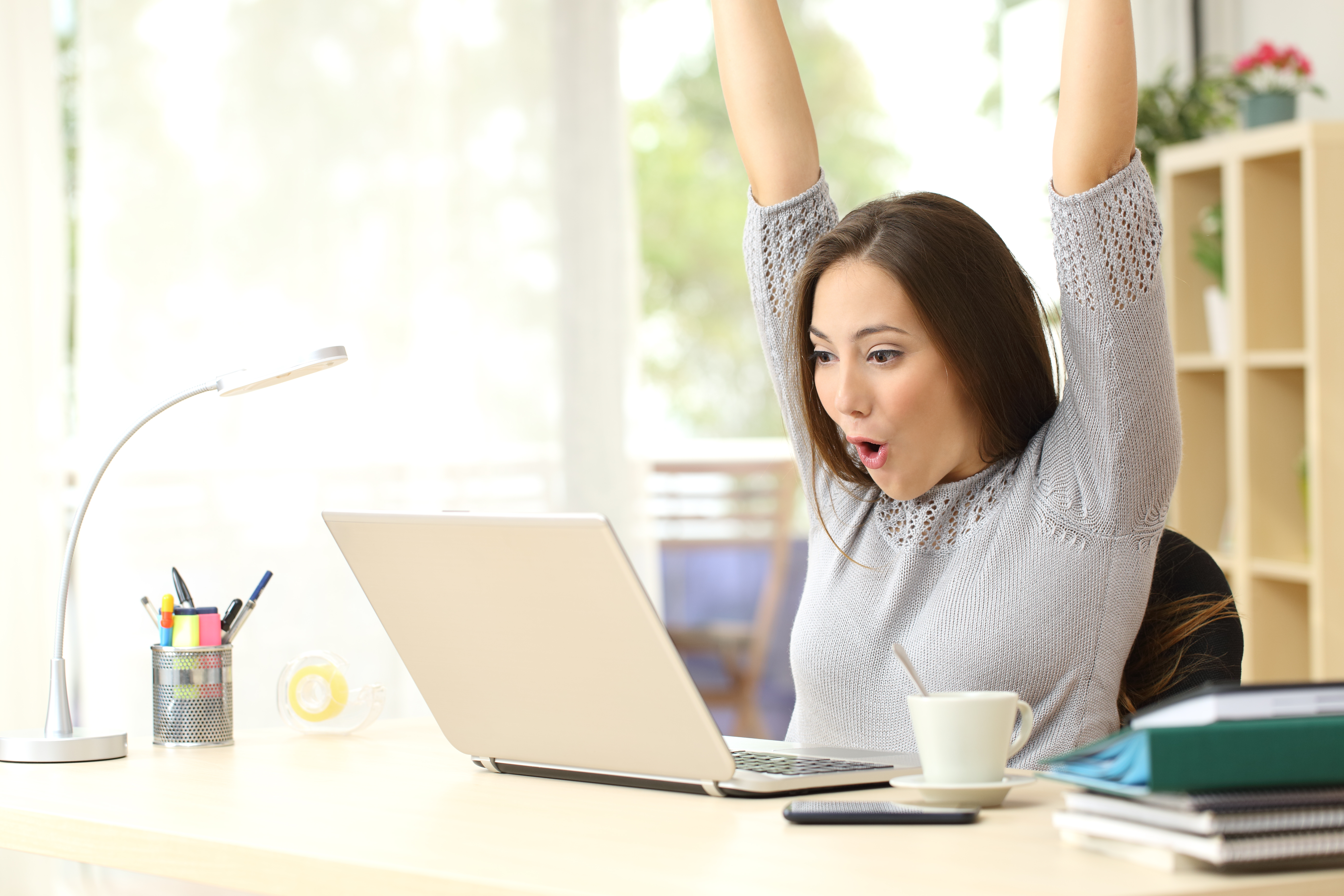 Get Your Current Clients Following Your Facebook Page
You MUST get your current clients to "Like" your page if you want to see new business!  Use our video training and ad images to create a Facebook "like" ad targeted directly at your current client base!  You'll add new "likes" and grow your local reach quickly.
Create a Referral Strategy
To get the most from Facebook marketing, you need to be building your referral based business on a consistent basis. We'll give you the images, flyer templates, and training to create a unique Referral Reward program that delivers.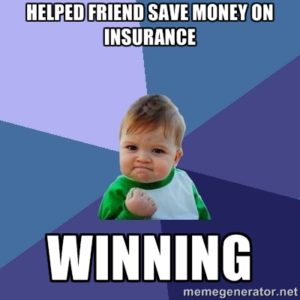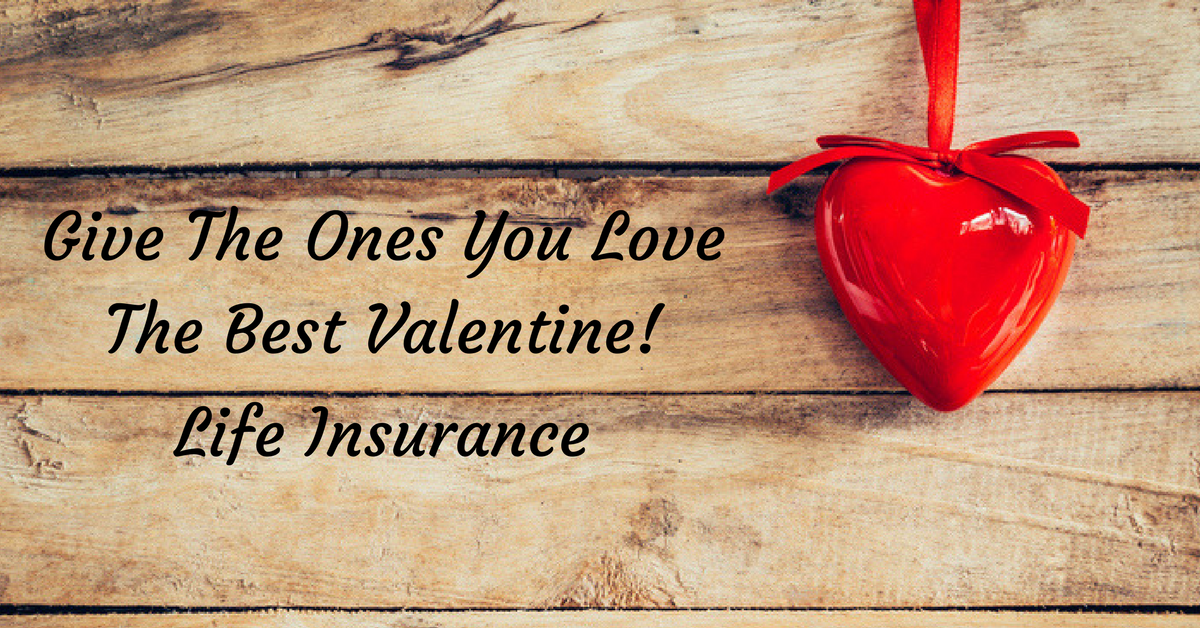 BONUS: Posts To Boost
And to reach even MORE prospects?
We'll give you suggestions each month on posts that you can BOOST (along with video instructions on exactly how-to) so that you reach thousands of local people!  Plus we'll send you an email to remind you when the best posts pop up.
We don't believe that social media marketing should break your budget!  That's why we offer two affordable packages based on your agency's needs.
The Silver package is priced at $37 per month with no contract.  It's the DIY option.  This is great for an agency that wants to be more involved in their daily Facebook marketing.  In this package, you receive immediate access to the current month's content, images, training, ads, and tools through our customized member website!  You will be responsible for customizing and scheduling your content each month.  (New content is released on the 25th of each month.)
The Platinum package is priced at $97 per month with no contract.  In this package, you get everything from the Silver package - just we'll take care of customizing and scheduling your posts!  We'll send you a customized spreadsheet each month with your agency's content ready for you to review.  You'll approve it (and let us know of any special events or promotions you want to include) and then we'll set it up to run smoothly all month long.  (Note: This does not include creating or running any Facebook ads.) 
Social media has been our Achilles heel for some time until I came across Robyn and John Sharp.  I am very impressed with their service, the attention to detail and the creativity in the posts.  They make our SM presence fresh, timely and fun!  We have seen our "like" numbers increase weekly.  I appreciate the communication of upcoming posts and our ability to personalize them to fit our community.  What a relief they have brought to me to handle all our SM marketing.  Thank you Robyn and John!!

Cindy McCullough

McCullough & Pierson Insurance
Just wanted to share something after a few days of using your content.  (Included a screenshot that organic reach had increased over 600%!) To say that I am pleased would be an understatement.

This is exactly what I needed!

Thank you

Jon Albert

Jon Albert Farmers Insurance
Simply click the button below, fill out the order form, and we'll instantly send you the setup information.  For Platinum, expect to have your content customized and running within 3 business days.  Silver, you can start immediately!
You can also call our office at (501)547-8107 for assistance.
"I have been following Mega Agency Marketing since the first of the year, taking advantage of their free Webinars.  I have found them very useful as far as giving me more ideas on how to approach potential clients and where to Market for the best results.  My agency has recently grown to the point that allowed me to reach out to John and sign up for the Social Media program and I have been so impressed and appreciative of the great ideas they have come up with to post throughout the month.  I have noticed a few of my Co-Workers trying to steal a few ideas from me. "

Heather Newton

Farmers Agent
Frequently Asked Questions
Is your content compliant with my company?

We are not personally affiliated with any insurance company, however we do work with hundreds of agents representing every major company or carrier and have had NO issues with compliance in over 6 years of producing daily content.  (We've been doing this since 2011!)

As former agents, we understand that you can't mention financial services or universal life products on social media.  Our content is much more focused on promoting YOUR agency and brand!

I'm a new agent…can you help me?

Congratulations on your new endeavor!  We would love to help you grow, simply understand that your growth may be a little slower as you establish your name and agency brand on Facebook.  But these are great tools to have in place from your very first day!

I use content my company provides but don't see much result. How is this different?

This is SO different!  Your company only cares about one thing – getting their brand in front of as many eyeballs as possible.  The content they provide looks GREAT, but it's not so good at generating phone calls or showing YOUR name and agency.

We focus on your agency only.  Creating a custom, local feel that makes you look like a real person that someone wants to do business with.  Our content is light-hearted, engaging, funny, and shareable.  We don't think insurance has to be boring!

Is there a long-term contract?

No!  Our service is offered on a month-to-month basis with no long term contract or startup fee.  However, we do request a 30 day notice of cancellation (Platinum only) since content is created in advance of each month.  (For questions, give us a call or view our Terms of Service!)

Who will get the most out of this program?

We have worked with every kind of agency you can imagine – Allstate, Farmers, State Farm, Nationwide, American Family, Independent agencies…you name it!

In general, we feel that this program is BEST suited for a Personal Lines P&C Agency.

Can I upgrade or downgrade my package later?

Yes.  Feel free to choose Silver or Platinum – and if you find you need more help (or can handle it on your own) – just email us and we'll change your billing info right away.

Does this work for Life/Health agents?

The Life/Health market varies a lot!  Because of this, we only offer a P&C package.  Mega Posts frequently mentions Life Insurance, but also lots of auto and home mixed in.

If you are a Life agent and want to give this a try – choose the Silver option and plan to make a little more customization to make it work for you.
Still Have Questions?  Call Us Today At (501)547-8107
I have found working with Mega Agency Marketing to be extremely easy and pleasurable. The posts they provided were consistent, relevant and fun. It has been easy and customizable.

Julie Sequeira,

American Family Agent
"We have gotten 5 to 6 leads in the past week from the Facebook site!"

Robert Deese,

Jean Deese Insurance
"I just wanted to let you know that I got my first sale from my Facebook Ad! About a $4000 account!"

Tom Sangster,

Sangster Insurance
Finally digging into the done for you FB posts, and LOVE LOVE LOVE them!!! I didn't realize what I was missing!!!!!!!!!!

Scott Sileo,

Allstate Agent