Want to make your insurance Facebook page look better and get better results fast?
Step 1: Update Your Settings
If you want people to FIND your page, then it needs to be listed correctly (plus you want to show up in the Service Provider directory).
First go to your agency Facebook page and click About under your cover photo.  Then click Page Info on the left.
Make sure your Category is labeled Local Business.
Make sure your Subcategories say Insurance Agent and Insurance Broker.
Verify that your Address is correct.  Scroll down and check Phone Number too.
Step 2: Update Your Photos
Make sure you have a profile photo and a cover photo.  The profile photo is the small box on the upper left that shows up next to your Facebook posts.  I usually recommend a headshot style photo here.  If your name is on the door, then your photo should be here.  If you are an independent with multiple producers/agents, then you might do a group photo here, but remember space is limited and you want people to be able to see faces clearly.
Your cover photo can be anything you like.  I always like photos of the front of the office, team photos, or even just a nice marketing image that your company provides.  Below is a simple one that we've used for clients:

Remember, you want people to recognize your name and brand.  That means that you need to be consistent with your images.  If there is a photo that you use in your advertisements and billboards, then make sure you use it in a prominent place on your social media profiles too.
Avoid using stock photos for your profile picture – I know it can be tempting to just put up a photo of a car or random happy family, but it's not going to help you!  And most logos just don't fit well and are too hard to read.  Take the time to take a new photo and make the most of your Facebook real estate.
Step 3: Update Your Content
Last week I talked about categorizing your leads into cold, warm, and hot prospects.  (Read all about them here.)  Hot leads are most likely to "like" your Facebook page and they are typically already your clients!
That means, that you need to be hitting them with the right marketing message!  What's the right message for current clients?  Multi-line discounts and referral rewards!  
Here are a few sample posts to get you started (just right click and save the images to your computer):
Example #1:
Help your friends save too!  Send them for a quote and we'll send you [REWARD].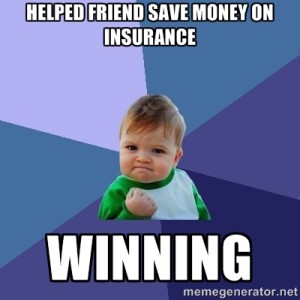 Example #2:
Great advice!  Call us at [PHONE] to learn more about life insurance.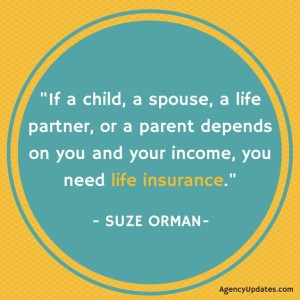 Plan to post about your referral rewards program at least once per week and try to incorporate pictures of your reward winners whenever possible.  And at least 2-3 times per month, talk about multi-line discounts and urge followers to request a quote.
If you enjoyed this article, get the Insurance Marketing Calendar (it's free)
Thanks!  Please check your email to download the current Insurance Marketing Calendar!