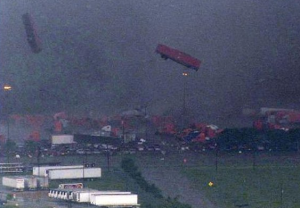 This topic seemed to be the perfect choice for today.
I live in Fort Worth, TX and yesterday afternoon the Dallas/Fort Worth area was hit by tornadoes.  I'm so thankful that we personally avoided them, but there is a lot of damage in the area.  The picture on the left is the tornado yesterday throwing Semi-trucks up in the air.  We watched this live on TV as it was happening!
Since John and I used to own insurance agencies, our first thought was "someone is going to have a rough few days at the office!"
But even though catastrophes like this one are awful for your customers, they are a great opportunity to show each client WHY they do business with you and not some 800 number.
I specialize in helping agencies maximize their social media marketing but many don't realize just how useful Facebook can be in this type of situation.  Facebook is the perfect tool for building and maintaining communication and relationships with your book of business.
We all know that most clients cancel for 2 reasons.  One, is obviously price.  They find a cheaper price elsewhere or experience a price increase with you.  The second, and much more controllable reason, is because they had a bad customer service experience typically related to a claim.
Now, I know many of your are thinking – "But I'm not a claims adjuster!  There isn't much I can do."  But that just isn't true.
One thing I constantly tell my consulting clients is that Facebook is the BEST place to start when a storm hits.  So if you live in the South and experience severe storms, the North and have snow storms, or the Coastal areas and have hurricanes, there is opportunity here!
This is what I would do….
There is a potential for bad weather today.  Get on the Agency Facebook page and let people know how to contact you or the claims number in case of damage.
There is a severe weather warning.  Post it!
After a storm and you know people have damage (hail, high wind, flood, etc).  Make another announcement explaining how to turn in a claim.  Consider providing additional education here.
Should they turn in a claim if they don't know their deductible or level of damage first?  Tell them how to find out.
Should they hire a roofer that comes and knocks on their door off the street?
Will you be open special hours to deal with claims questions?  Can someone call your cell phone tonight?  Obviously these are personal questions that will depend on your agency structure, but it is something to consider.
Remember, every time someone comments or likes your Wall Post, it shows to their friends.  So, the more interaction you receive at these times, the more your name is shared in the community.
And I'm pretty sure that other people would begin to wonder why THEIR agent doesn't seem very available after a disaster….
This is an easy way to differentiate your agency from the competition, improve customer service, and increase retention.  Start making a plan to use it!
If you enjoyed this article, get the Insurance Marketing Calendar (it's free)
Thanks!  Please check your email to download the current Insurance Marketing Calendar!