Back in 2012, I wrote a popular post on how to add a get a quote insurance form to your Facebook page (along with a tutorial video).  Unfortunately, over the years and with Facebook's design changes, that DIY method no longer works!
Get A Quote Form
Now, you will need to use a service that creates landing pages (or forms) and allows you to embed them within your Facebook page.
I recommend Leadpages because I personally have used them and found their service reliable.  I've heard of others, but I only like to recommend things I've actually used!  The monthly cost might be a little high if all you need is a Facebook tab, but it's definitely worth it if you have a need for landing pages.
Note:  Many captive companies offer a Facebook tab quote form for their agents, you just need to contact your marketing department to find out how to set it up.
In the mean time, what CAN you change on your own?  Here are a few ideas:
Put A Face With A Name
Your profile picture is shown next to every status update or comment you make.  That means that this is NOT the place to put a blurry or badly cropped logo.  If your name is on the front door of the agency, then your face should be in the profile photo!  Use an up-to-date headshot preferably.  It's all about branding here!  So consider using the same photo on your personal profile too.
If your name is not on the door and you brand the agency name, consider doing a nice photo of the front of your office.  Only use your logo if it fits really well and is easy to read!  Here are a few samples from client's pages: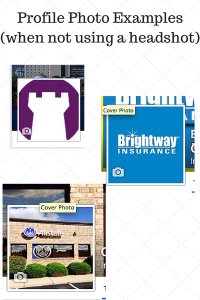 Facebook Cover Image
Are you using the BIG cover photo at the top of your business and personal Facebook pages? I've noticed that a lot of people are leaving this spot blank! Big mistake!
First, the cover photo is the largest and most obvious space on your page and a great place to brand yourself. Plus, it's very easy to update, so there is just no excuse for leaving it blank.
This is a great place to put a picture of your team or the front of your office location. I've also seen some great photos that show a booth at an event or even a branded company graphic.
If you want to add your name or logo to a picture use a website like PicMonkey to edit the image.   If you don't have a photo and you're starting from scratch, Canva is another free website that can help you create simple professional cover image graphics.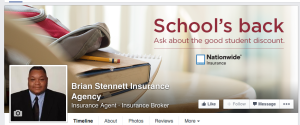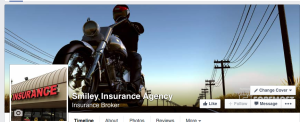 Don't let this be something you never do because it's too hard to setup. With only a few minutes, you can have a nice branded photo included on all of your Facebook pages, without having to hire a graphic designer!
Add A Call To Action
Have you noticed the "call to action" button that now exists at the top of your Facebook page?
They've been around for a while now, but I've noticed that Facebook is really beginning to promote it.  So I thought I'd show you how to update yours!
This will allow you to add a small button to the cover image on your Facebook page that links to your website (or just lets someone send you a message).
First go to your Facebook business page.  Here's mine below (you can follow my Facebook page here!) :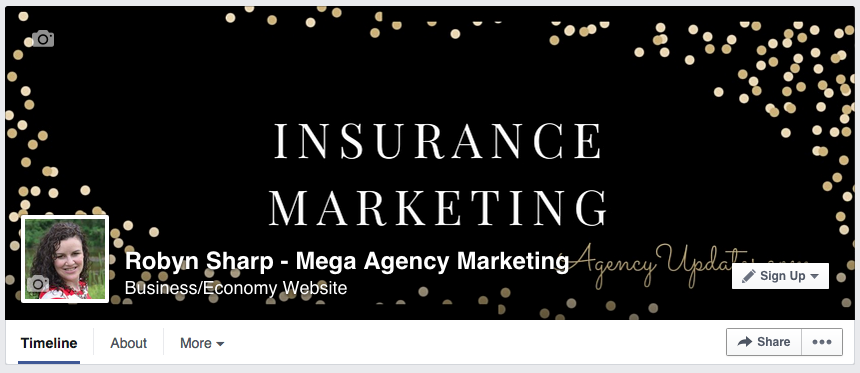 See that little "Sign Up" button on the bottom right of the cover image?  That is your Call-To-Action button.  You can't change the color or placement but there are several options for text.  Here's how to edit it:
When you click on the button (while logged in as an admin), this menu will show below.  Select Edit.  (If you haven't created one before, it will just say Create A Call To Action) and send you straight to the next step.)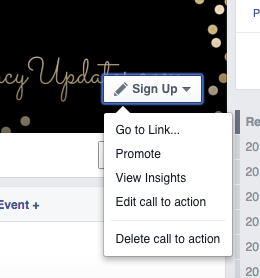 Below you'll see the Edit menu.  You'll be able to choose a button and put in the link you want to send someone to if they click on it.  I've put in my website address.  You could use your main website or send someone directly to a quote or landing page.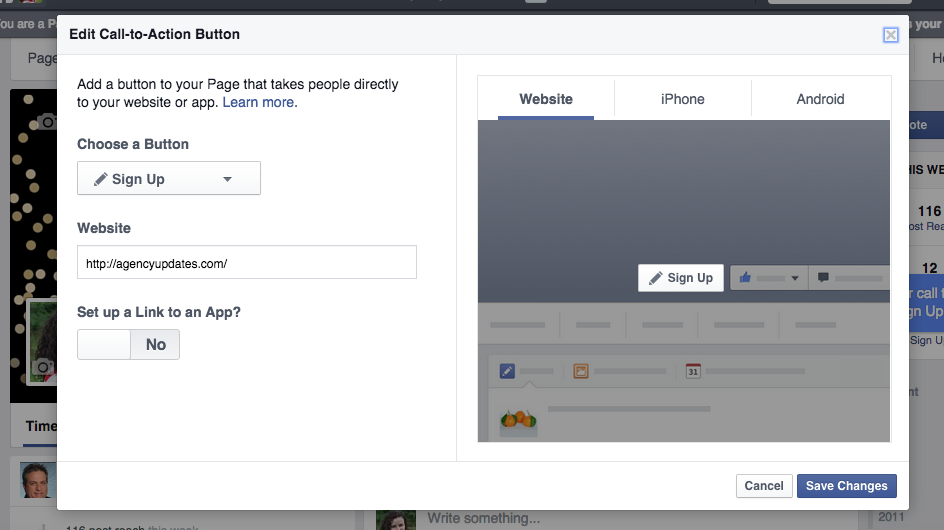 Here are the different options for selecting your button text.  For an insurance agency, I'd probably recommend Contact Us.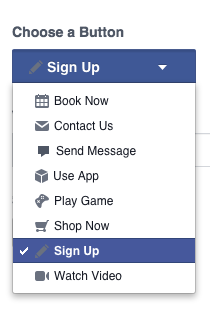 Then save it and you're done!  Super easy.  Your stats will show if anyone clicks on the button too.  You can also include the button in any Facebook ads that you run.
Got it?  Now go create yours now!
Update Your About Section
Your ABOUT section needs to be completely filled out with up to date contact info.  Click ABOUT under your profile photo and review the info.  If you hover over an item, you'll see a pencil and the word EDIT show up to the right.  
Make sure you list your Category as Local Business and Insurance Agent and Insurance Broker as your sub-category so you show up in the local business directory.
Get New "Likes"
Now that your page looks amazing, it's time to do something to get new "likes".  You could run a Facebook ad, send an email to your client list asking them to like your page, update your profile in your email signature (and your staff's too) or just invite some of your networking connections to visit your page.  Small actions lead to big results!  Read this post for ideas on building your page likes.  
Create Daily Content
Once you've got your page set up and have clients "liking" you, you'll want to make sure you've got regular daily content scheduled to go out.  Not sure what to write?  Use Mega Posts and have engaging, excellent insurance specific content every day!
If you enjoyed this article, get the Insurance Marketing Calendar (it's free)
Thanks!  Please check your email to download the current Insurance Marketing Calendar!