Are you ready for a brand-new month?  Let's get started!
February Insurance Marketing
Here are a few things to do to market your agency this month:
When you download the February marketing calendar, you'll see that this month's theme is "Life insurance for those you love!"  While September is the traditional Life Insurance Awareness Month, I thought we needed to add in another month to talk about such an important coverage.  (If you don't sell life, stay tuned – we'll be back to P&C for March!)
Make sure to get a copy of this month's marketing calendar below to get ALL of the life marketing ideas included.
Draw your Referral Rewards winner from January and PROMOTE it on all of your social networks and email newsletter.  
Referral Rewards are a GREAT way to build your agency through social media.  (For a limited time, get ALL of my referral training and templates for FREE in Mega Posts at either level.)
Do Annual Reviews!  Either contact those with renewals in February or people whose last name starts with C and D. These appointments are a great time to connect with your clients, look for gaps in coverage, and make sure their needs are being met. 
If you have a big Life Insurance sales goal that you haven't hit yet, it's time to get busy.  You can also start contacting those with a birthday coming up in the next couple of months and reminding them that rates will increase if they don't lock them in now.   (Check out the Life Insurance Promotion Kit to implement this!)
Make sure you're connecting on social media too!  Aim to post at least once a day!  Remember, your daily social posts are a way to consistently keep your agency name and brand in front of your clients.  If you don't have time to figure out what to write, then check out the Platinum Facebook Post program.  (We've included some extra posts about life insurance this month.)
Go "live" on Facebook (or make a video with your phone and upload it).  Talk about the importance of life insurance and share a personal story where you've seen it make a difference in your life or the life of a client.  Remember "facts tell, stories sell!"  
Do your clients/prospects actually KNOW how inexpensive your life policies can be?  Share a flyer or graphic on Facebook about term coverage!  Most people expect it to cost around double what it actually does, which keeps them from ever even asking about it.
Plan a Valentine's Day party!  Have a little fun and plan a special lunch for the holiday.  It's great for team building!  You could even announce a special contest for the most life apps or referrals this month.
January Review
No good marketing plan works without a solid review of what you're already doing.  Spend some time reviewing all of your January reports.
Where did most of your sales come from?  (If you aren't sure, create a spreadsheet and start documenting it!)
Which staff member produced the most?
How can you take what is working and do MORE of it?
Download Your February Insurance Marketing Calendar
If you'd like a printable calendar version of February's marketing, then click here and I'll send you one!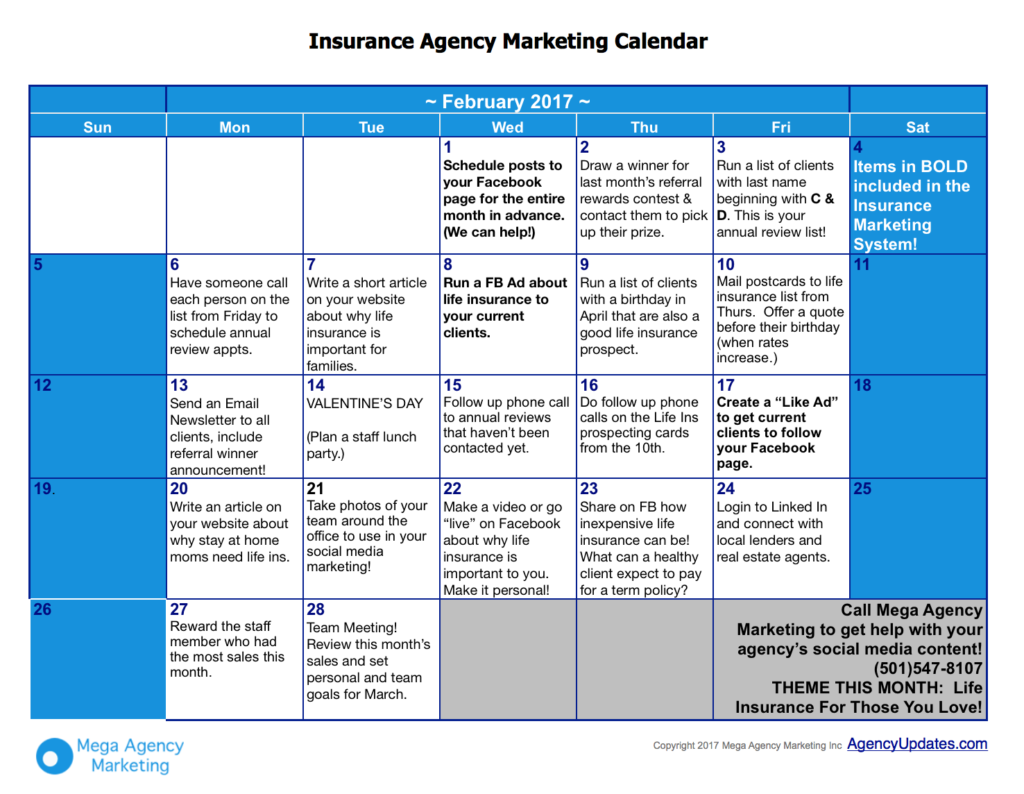 If you enjoyed this article, get the Insurance Marketing Calendar (it's free)
Thanks!  Please check your email to download the current Insurance Marketing Calendar!