Are you ready to create your insurance agency Referral Rewards program?
Too many agents create a boring referral programs and NEVER talk about it to their clients.  Simply making a flyer and sending out a few gift cards rarely leads to the level of sales that you were hoping for.  You've got to make a strong promotion strategy from the get go.
So how do you position yourself in the group that gets results?
Well, first problem is that too many people are thinking of their referral program as something that they can "set it and forget it."  It's not a slow cooker.  It's an ongoing tool that needs ongoing promotion in order to see any new quotes and sales.
When I look at agents that are having success, I see someone who talks about referrals constantly.  They make sure that they NEVER stop getting the message out.  It is a core philosophy that is ingrained in their team and their work environment.
So I want you to begin here if you're just getting started.
First, how do you want to reward your referrals?  Many agents have expressed concern to me over their insurance license and being able to give referral rewards.  Obviously this is an important thing to check into!  You need to contact your state insurance department if you're unsure.
Based on my experience, what I've found is that typically you can give a reward as long as it is not tied to the condition of a sale.  So you can't say "I'll only give you a reward if the person you refer purchases a policy."  That could be considered rebating so be aware of it.
Create A Fun Insurance Agency Referral Rewards Program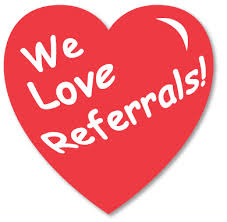 Now, you need to decide what you want to give.  Think about what your client would really enjoy.  It's not about the dollar value.  In fact, what you want is for the client to talk about the reward to a friend!  I've seen tons of creative "thank you" ideas for referrals.  Some of my favorites?
$5 Starbucks gift cards with a note that says "Thanks A Latte"
A few scratch off lottery tickets with a note that says "We Hope You Win Big!"
A $10 Visa gift card
A coffee mug (with the agency name on it) and a $5 coffee gift card inside.
At this point, you're not trying to woo them with big spending.  You're trying to show appreciation.  And real, genuine appreciation can go a long way.
Many agents take each referral name and enter them into a monthly drawing from here.  I like this idea because it gives you a lot of visibility to work with in promoting your program all year long.
What could be in your monthly drawing?
Movie tickets
Larger value gift cards
Restaurant gift certificate
Spa gift certificate
A wheel of random prizes that the client spins to win
Get creative!  Think about what would be fun for your client, not just what looks expensive.
You want the process to be visible.  You could make a video of you drawing a name from the fishbowl in the office and post it on Youtube and your agency Facebook page.  Put the names of everyone who gave you a referral that month in your monthly newsletter too!
I like doing a drawing because you can ask the client to come by and pick up their gift and try to get a quick photo of them with it.  Use the photo in your marketing!  Post a thank you on your Facebook with the winner's picture (most people won't mind, just ask them first!).  Put pictures on your Referral Rewards flyer.  Think of as many ways as possible to use these little marketing tools on a consistent basis.
Lots of people also keep all the names and do a grand prize drawing at the end of the year.  I've seen things like a big screen TV or a vacation package like a cruise.  I think these are great, but not really necessary.  Meaning that it gives you great material to work with and promote, but I don't think they will cause you to have an increase in referrals.
If I were going to re-create my own Referral Rewards program today, here is what I would do.  
I would create a fun flyer and social media graphic saying that we'll send a $10 Amazon gift card by email for every referral.  I'd also promote a monthly drawing for two movie tickets and a $20 concessions gift card.
I would coach my staff on mentioning referrals in EVERY single transaction.  Something simple like "We really appreciate your business.  Keep in mind that every time you refer something to our agency for a quote, we enter your name into a monthly drawing for _____"
I would also HEAVILY integrate social media marketing!  It's the BEST way to get the word out about referrals and create consistent promotion.  (We do this for our Platinum Content clients!)
Other ideas:
You could create flyers to hand out to each person that comes in or you could create small, brightly colored strips with the details that you staple to a receipt or to anything that you mail out.
Remember, for this to work you must always make it a point to ask for a referral name too!  So when you take someone's information for a quote, make sure to ask how they heard about you and the name of the person that sent them.
Consider getting word of mouth promotion by doing remarkable things.  Send a box of cookies from a local bakery to a new client and ask for referrals.  Have your clients car washed in the parking lot while you're doing their life insurance review.  Creativity drives referral business!
Your referral rewards program doesn't have to be customer's only.  Many agents actively promote rewards to Realtors and Mortgage Lenders as well with great success.
Download the Referral Rewards Launch Kit here! I'll give you a FREE copy of my launch checklist, a sample promotion to get real estate agents and lenders paying attention to your program, PLUS 5 images you can use on social media to promote your program.  Everything you need to make your new Referral Rewards program a success. 
I hope these ideas will help you in creating and defining your own referral program.  It doesn't have to be complicated or expensive to be effective.  The most important part is that you make it a part of your agency culture, actively promote it consistently, and get your staff involved.  It will make all the difference.
If you enjoyed this article, get the Insurance Marketing Calendar (it's free)
Thanks!  Please check your email to download the current Insurance Marketing Calendar!