Today is Day 6 in my series on "Creating A Mega Agency Without A Mega Budget: 59 Ways To Attract All The Insurance Clients You Need."
(Click here and enter your email address on the right to get the entire checklist instantly.)
This list is a mix of marketing ideas and ways to streamline your agency operations and improve service, referrals, retention, and more.  All designed to help you take your agency to the next level without going broke in the process.
[headline_tahoma_small_left color="#000000″]#6:  Start A Workshop For 1st Time Home Buyers[/headline_tahoma_small_left]
I love this idea for those of you that have great homeowner's insurance rates.  If you don't have great rates, it doesn't mean you can't do it, it just might not be as much of a priority for you right now.
In earlier posts, we've talked about finding your target market and targeting your sales where you can be the most competitive.
First time home buyers are frequently a target market for Realtors.  I'm sure that you have worked with many yourself.  What typically happens is that they move through the home buying process feeling a little overwhelmed and lost.  (We've all been there right?)  And they just have to trust that everyone is telling them the right thing to do.
So when it's time to think about Homeowner's Insurance, they just let their loan officer or their Realtor tell them who to call and then they trust that the agent will give them a good policy.  There is a lot of blind trust involved.
So why not try to step in and be a part of the process too?
Contact a local Realtor and Mortgage Lender about putting together a 1st Time Home Buyers seminar together.
Figure out a good venue to host at (depending on what is available and how much money you want to spend.  You could host at someone's office.)  Then plan a free 1-2 hour seminar/workshop for a Saturday or Sunday afternoon.
Think about what kinds of things a home buyer might be needing to learn about or might be needing help with.  Each of you could do a short 20 minute presentation.
You could talk about how to save on your insurance costs, things to know about the inspection, ways to avoid problems before closing (relating to the insurance), getting multi-line discounts.
The Realtor could talk about thing to look for in your first home, popular areas of town, how to get the best deal, the process of purchasing.
The Lender could talk about how to get the best rate, what you must have to qualify, and where to begin the process.
These are all things that people out there WANT to know! (You could even videotape the presentation and make copies to give out to clients as a free gift.)
All of you would split any costs and you could all invite your own clients as well as advertise around town about the event.  Plan to host the same seminar each quarter.
Don't limit yourself to just what I've listed either.  You might think of other professionals that would be right for your workshop.  You could bring in a Home Builder, Landscaper, Contractor, etc if you want to be more specific in your audience.
People love free information and finding professionals that they can trust.  Quit waiting for a Lender to send you a lead and start creating your own!  
(Don't have the "59 Ways To Attract All The Insurance Clients You Need" checklist yet?  Click here and enter your email address on the right for the instant download.)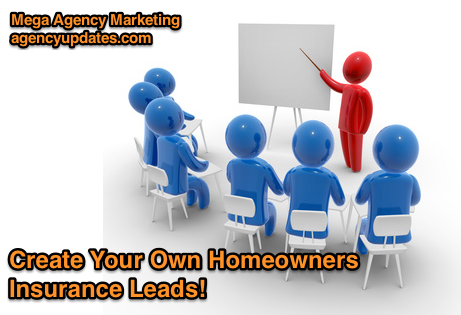 If you enjoyed this article, get the Insurance Marketing Calendar (it's free)
Thanks!  Please check your email to download the current Insurance Marketing Calendar!