I get a lot of emails from people who are just starting in the insurance business or that are contemplating going in that direction.  They are looking for ideas on getting clients and making sales, of course, but I always throw this advice in too….keep your costs LOW!
If you've never been self-employed before, it's even more important to follow this advice.  Here's the honest truth.  In the insurance world, some months you'll feel like a rockstar and some you'll want to crawl under a rock.  It's not consistent in the beginning!
That's because, unless you bought a large book of business, you don't have enough renewal income to balance out inconsistent sales months.
In insurance sales, there are definite highs and lows in the sales cycle.  You see much higher sales in months with lots of home sales and times when people tend to buy new cars.  You also see significant lows in months where people are generally caught up in other things like the holidays, back to school, and high vacation times.
When you know this in advance, it doesn't hurt so bad.  When you are blindsided, it can cause significant problems!
That's why I advise ANY agent, but especially new ones, to keep their expenses as low as possible until income is steady.
So if your spouse has a full time job, see if you can live off only their income for your personal expenses while the agency is growing.  Being able to build up a cushion and adequately invest in marketing is important!  The more you can reinvest into the agency in the beginning, the better!
Don't go for the flashiest  location.  If I were to look for an insurance agency location now, I'd probably aim for an office suite rather than a retail shopping center.  The cost savings are worth it and in our area, we weren't trying to attract walk in business.  (They were generally high risk.)
Don't over hire.  Yes, you will need help but don't hire a huge team when you're first starting out.  Focus on one really great assistant that you can train and go from there.  You don't need someone with insurance experience, just someone who works hard and does what you ask.
Be obsessive about tracking your results.  Track EVERYTHING.  Inbound calls, outbound calls, dials, quotes, sales, commission rates, where they came from, who referred them.  You really can't over-do it in this area.  Then follow this rule – "Do more of what works."  It's that simple.  But you can't do more, if you don't know what works in the first place!
Create processes before you need them.  Yeah, right now you're doing a huge amount of the work.  But that won't always be the case.  And if you can't teach someone else how YOU do it, then you can't expect to get the same results.  Start writing down "how we do things in my agency" now, so you have it ready as you grow.

Learn about taxes NOW.  Notice, I didn't say hire a great accountant.  While that IS important, you really need to have a clear understanding of the tax basics.  NO ONE will take better care of your business than you!  You need to know what you can write off and how to document it.  I highly recommend this book for getting started.  It was an easy tax read and taught me a ton.  Plus it's the 2013/2014 edition so it's got all up to date info. – Lower Your Taxes Big Time 2013-2014 5/E
 .
(Edited to add in 2017:  There are new versions of the book above!  Also, check out Profit First!)
Be ruthless.  Don't keep the staff member around too long that does a crappy job just because you'd feel guilty firing him.  Don't order 10,000 postcards at once that you haven't even tested yet.  Don't buy 10 computers to fill up the office when you only have one staff member.  Protect every dollar in your business.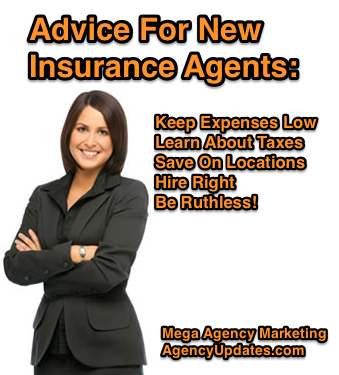 If you enjoyed this article, get the Insurance Marketing Calendar (it's free)
Thanks!  Please check your email to download the current Insurance Marketing Calendar!